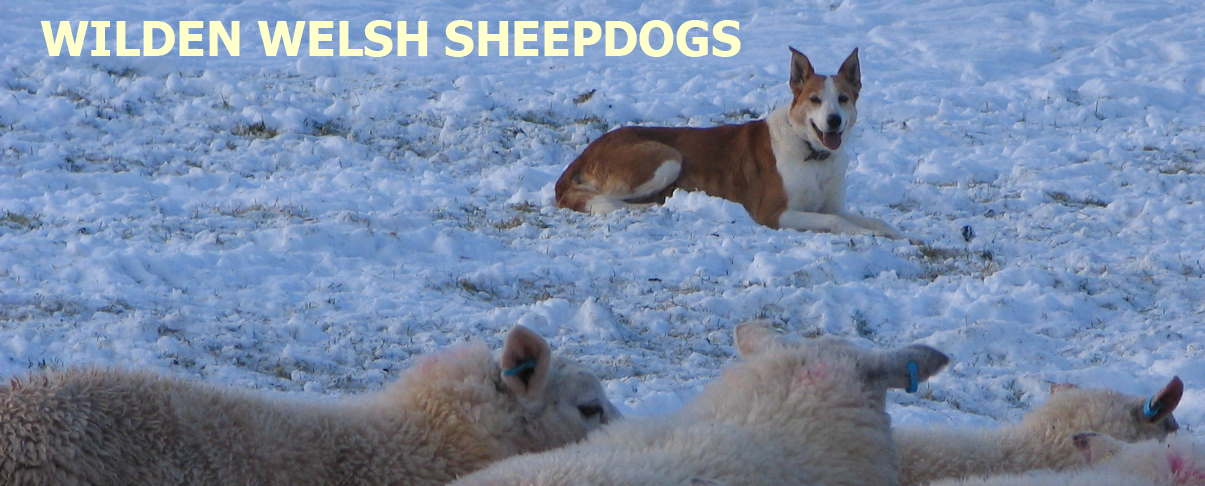 MILWYN HEINI
Heini is a lovely red Welsh Sheepdog bitch who was was bought as a pup in 2001. We were both shut down by FMD restrictions so met in the carpark at Rhayader. Elen brought Gwen and her litter in the back of the Landrover and Heini stood out for me as whilst the rest were wanting to be friends, Heini just sat back and observed the goings on in the carpark. My hunch about her intelligence was right. She has a calculating way of going about her work that often surprises me; very often she is right and I am wrong! It's hard to take good working photos of her, she always seems to look like she isn't doing much - but she's always in control and is happy doing half mile outruns, so who am I to complain?
| | |
| --- | --- |
| | |
Heini's first litter was to Penlanlwyd Fred. They were all red pups and all but one went to working homes. We were fully stocked with dogs at the time and didn't keep any on here, something I now regret. A good dog, Wilden Ali, went locally and now has a breeding certificate so I can use him at stud, a bitch from this litter working in Hampshire holds a breeding certificate too.
Heini had a small second litter by Wilden Ranger. They are outstanding workers and of the three pups the two dogs, Wilden Joe and Wilden Tan Gwyllt (Welsh for firework) have breeding certificates. Pip, the bitch, shown left at about 12 weeks. We recently used Tan on Pen's daughter Suzie and have had a lovely litter from him.
Heini had 17 pups in six months in 2008. The first was planned, in March, by Wilden Smasher, the other in Autumn by Wilden Skipper. I have to say the second was an executive decision by Heini, but she was right, as usual. There are some good young dogs from both litters about. Wilden Hafren is a super bitch from Smasher who has passed her working assessment and has been retained. A brother of hers was sold to Southern Ireland. Wilden Ceri, sired by Skipper, also retained here and recently got her breeding certificate, brothers Rowan and Mr Jones shown below at 12 weeks already able to work sensibly as a brace if given the chance.
Below you can watch some videos of Heini at work. The first shows her unloading a trailer - she will go both over the backs of sheep and underneath them in a confined space. The second is a video of H keeping the cattle at a safe distance while hay is put out for them.